What can affect your Freeview signal?
The most common cause of poor reception signal at home is a loosened cable connecting your Freeview to the TV. A simple push to re-tighten the connection is usually all it takes to fix the problem.
Sometimes however the issue may not be so simple to resolve, below are just some of the usual causes that can affect your Freeview signal.
Trees Blocking Your Reception
Trees around your property can be both beautiful and provide added privacy. However, if you notice your tv signal changes depending on the season then you may have tall trees blocking the signal. The expensive solution is to remove/trim the tree or the offending leaves from aerials line of sight. This sometimes is simply not a solution in which case an indoor aerial with a built-in signal amplifier would solve the issue.
Bad Weather
Many of us have experienced a pixellated TV show or perhaps no signal to the TV at all as a result of bad weather. In extreme weather conditions, the elements can actually physically damage your satellite dish and it can certainly disrupt your satellite signal. Heavy snow conditions can also cause large build-ups of snow on your dish. This can result in the satellite dish becoming misaligned and you losing your signal altogether.
A Damaged Aerial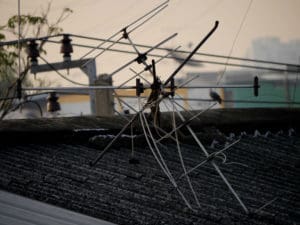 If you've been suffering from persistently bad TV signal, it may be that your outdoor aerial is damaged. Bad weather conditions can severely affect the aerial in the long-term. Modern TV aerials are built to last and you can expect a good quality antenna to last between ten to twenty years. Poor weather conditions in the UK can limit an aerial's lifespan though.
5G
Thousands of people could have their TV signal affected as the roll-out of 5G across Oxford begins. The next generation of mobile service will provide faster access to anyone using the internet on mobiles and tablets in the area. However, the upgrade could disrupt the TV signal of Freeview watchers who live near mobile masts. The problem occurs because 5G is transmitted at a similar frequency to Freeview, meaning it can be picked up and cause TV interference.
Call us now at Oxford Aerials on 01865 400141 for free advice over the phone or for a free survey and quotation. Alternatively you can use our enquiry form.