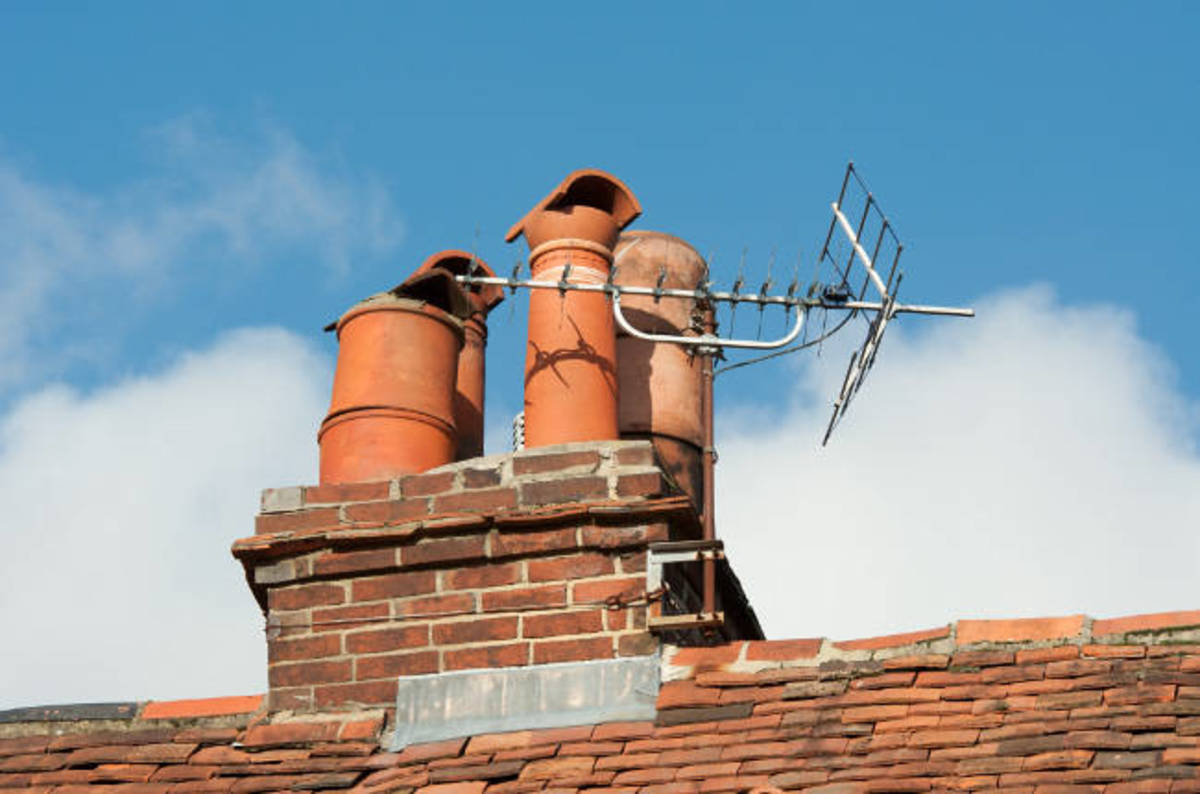 TV aerial installer in Buckingham
We, at Oxford Aerials pride ourselves on providing a good efficient service to all our customers. We supply, install and repair TV aerials and satellite dishes in and around Buckingham. Our aerial engineers can improve your television signals if you have any problems with them, by checking your aerial or satellite dish to make sure they are up to the required standard. Our installers are in and around Buckingham and the surrounding villages most days and we are happy to arrange a visit and give you a survey, offer advice and a quotation for any work. We do not charge to do this.
Our installers are all fully trained by the CAI (Confederation of Aerial Industries) and so can offer the full range of TV aerial installations. This includes loft aerials, wall mounted and chimney mounted aerials. We can supply and fit aerial amplifiers wherever they are needed to fix reception issues. Our Oxford Aerials vans are fully stocked with all the necessary equipment for repairs and installations to get you perfect TV pictures.
We can repair or upgrade your existing TV or radio aerial installation so that it is fully compatible with the Freeview services. Our aerial & satellite installation service engineers are also trained and equipped to repair and upgrade your satellite dish for use with Freesat as well as Sky Q services.
We are happy to give you any advice you may need on an aerial or a satellite dish installation so you can receive the hundreds of free channels form either of these services.
TV reception conditions in Buckingham
Buckingham is generally a poor TV reception area compared to other local towns. It is mid-way between two regional TV transmitters, one in Oxford and the other on Sandy Heath near Bedford. Most aerials in Buckingham point east to Sandy Heath. Our digital aerial installers always carry aerials suitable for both transmitters as it is not possible to tell which will give the best reception on any particular rooftop!
Buckingham is very hilly and TV reception varies dramatically between high and low-lying areas. In low-lying areas, digital reception would be difficult. In these marginal areas of Buckingham, a digital aerial installation will often include a high gain aerial and a tall mast to achieve adequate reception. For this reason, TV aerial repairs can often be slightly more expensive in towns like Buckingham than in better reception areas.
In the low-lying areas of the town, particularly the town centre where freeview is difficult, we now often carry out a satellite dish installation to either deliver Sky (paid subscription service) or the Freesat service. Our aerial installers are also satellite TV installers and so can advise you as to which option is best and cheapest in your part of Buckingham and either carry out an aerial or dish installation for you there and then. There is little cost difference between these two options.
We provide domestic and commercial tv aerial and satellite installation services. No job is too big or small. Call 01869 879111 or 01865 400141 for a free quotation.
TV reception conditions in the villages around Buckingham
Outside of Buckingham, television signals generally improve as the ground is a little higher. Also, as one moves south west towards Oxford or east towards Sandy Heath signals become much stronger as you get nearer to one of the regional transmitters. BBC / ITV Freesat always remains as an alternative. Oxford Aerials installers can always carry out a free survey and advise on the best and most economical option.
Call us now at Oxford Aerials on 01869 879111 for free advice over the phone or for a free survey and quotation.
Reputable TV aerial installers in Buckingham
The team of TV aerial & satellite engineers at Oxford Aerials have carried out lots and lots aerial and dish installations over our 30 years of trading. We have full public liability insurance and our installation and repair work for our customers is always carried out to the highest standard whether it be it a small domestic installation, a large communal system for a block of flats or a larger installation in a commercial building or in a tower block.
All our vans carry a wide range of TV aerials, aerial masts, bracketry, amplifiers, satellite dishes and all other associated equipment. We also have a range of Freesat receivers. Using this range of equipment, we can offer you the best and most reliable TV reception. Our aerial installations will deliver both standard definition and high definition signals. Additional cables and outlets can be installed if you have additional TVs in other rooms. This means all your TVs can be connected to get the same high-quality signals for perfect TV pictures.
We can also repair and service your existing TV and radio aerials and your satellite dish installations.
Oxford Aerials can also solve your Wi-Fi blackspots with wireless access points. We can also hard wire your computers with cat6 data cable including to home offices / sheds in the garden!
We have 30+ years of experience and we have completed hundreds of jobs wall mounting TVs. We carry flat flush brackets and swivel brackets to allow you to re-angle your TV. As well as hanging TVs we also set up TV and AV equipment for you if required.
Since its launch in 2016 we increasingly provide upgrade work for Sky Q – sometimes Sky's installers cannot get to the dish because it is too inaccessible. We also offer a discreet dish installation service that Sky cannot offer for you. We have upgraded many dishes also communal systems for this new Sky Q service. We are also happy to install foreign language satellite dishes (usually for the Astra or Hotbird satellites) so you can receive foreign TV with a free to air satellite receiver.
All our installation work comes with a full 5-year guarantee on our labour and a 1-year manufacturer guarantee on all parts.
Our installers will carry out a full survey for you and our office staff can provide you with written quotations for all types of installation work and also risk assessments for commercial work in blocks of flats, commercial buildings and hotels where detailed planning of an installation would be needed. We carry out our work professionally, discretely, on time also within budget.