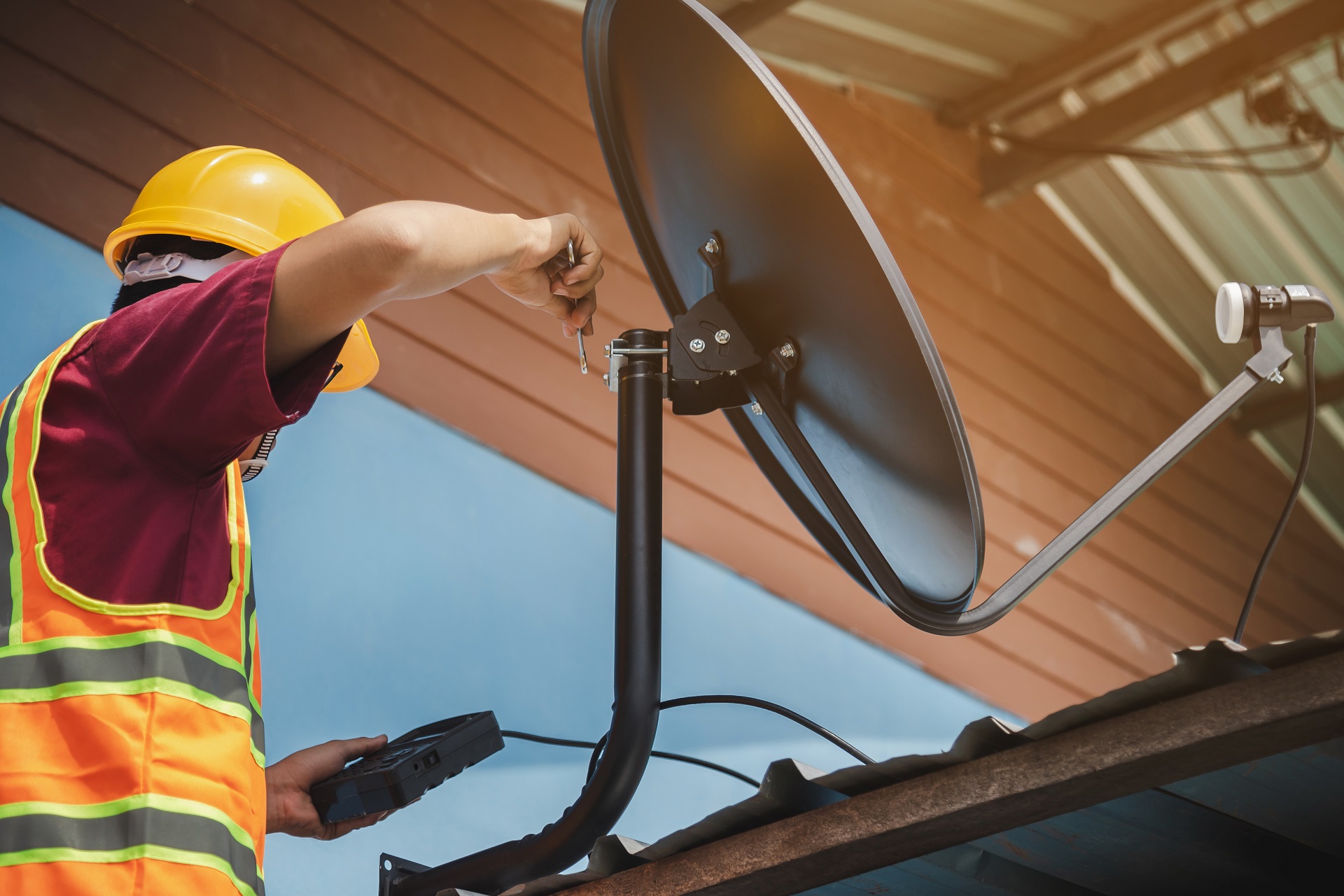 TV aerial installer in Brackley
Oxford Aerials always pride ourselves on providing a good and efficient service to our customers. We supply, install and repair lots of TV aerials and Satellite dishes in and around Brackley and the surrounding villages. Our aerial and Satellite engineers can always improve your television signals if you have any problems with them. We can check your aerial or satellite dish to make sure they are up to the required standard. Our installers are in and around Brackley and the surrounding villages nearly every day so we are happy to arrange to visit and give you a survey, advise you and a give you a quotation for any work. We do not charge for this.
All of our installers are fully trained by the Confederation of Aerial Industries and so can offer you a full range of TV aerial installations. This includes installing loft aerials, wall mounted and also chimney mounted aerials. We can supply and install aerial amplifiers wherever they are needed to improve reception issues. Each of our Oxford Aerials vans are fully stocked with all the equipment that we need for repairs and installations to get you very best TV pictures.
We can also repair or upgrade your current TV or radio aerials so that it is properly compatible with all of the Freeview services. Our aerial & satellite service engineers are also trained to repair and upgrade your satellite dish for use with Freesat as well as Sky Q services. We carry all the spare parts needed to carry out Satellite repairs.
We are happy to give you all the advice that you may need on any aerial or a satellite dish issues so you can receive all of free channels form Freeview or Freesat.
TV reception conditions in Brackley
Brackley and the surrounding villages are served by two main TV transmitters. The strongest signals come from the Oxford transmitter and most of the town receives it's signals from this direction. The second most commonly used transmitter is the Sandy Heath transmitter near Bedford. This gives two options for TV reception and the two transmitters are fortunately approximately in the opposite directions. This is useful because if a house is in a bad reception area for one transmitter because the lie of the land is wrong, then it is quite likely to be right for the other transmitter.
Our digital aerial installers usually carry out a quick test to see which transmitter is best. Because Brackley is half way between the two transmitters and quite a long way from both neither delivers a very strong signal. Because of this, most digital aerial installations in Brackley are fitted on tall masts and many have masthead pre-amplifiers to deliver a strong enough digital signal. This can make aerial repairs in Brackley slightly more expensive than in better reception areas. Because of this, carrying out a satellite installation to receive the new BBC / ITV Freesat service is now sometimes a cheaper option. We are also satellite TV installers and regularly carry out dish installations.
OXFORD AERIALS also provide a Sky dish installation service and satellite dish repair service.
We provide domestic and commercial tv aerial and satellite installation services. No job is too big or small. Call 01869 879111 or 01865 400141 for a free quotation.
TV reception conditions in the villages around Brackley
Most of the villages around Brackley have better television reception than the town itself because the land is higher and flatter and the Oxford transmitter works well.
To the south of Brackley reception becomes stronger as the Oxford transmitter is nearer here. The only villages where reception is lees good are Finmere and Tingewick which are a bit low lying and where a good outside aerial is usually needed to get good signals.
Call us now at Oxford Aerials on 01865 400141 for free advice over the phone or for a free survey and quotation.
Reputable TV aerial installers in Brackley
Our team of aerial and satellite engineers here at Oxford Aerials have carried out a great many aerial and dish installations over our 30 years of trading. Some of us have been doing so for 30 years. We all have full public liability insurance and our installation and repair work for our customers is always carried out to the very highest standard. This is the case whether it be it small domestic installations, large communal systems for a blocks of flats or larger installations in commercial buildings or in a tower blocks.
Each of our vans carry a wide range of TV aerials, masts and brackets, and also TV amplifiers, satellite dishes and all of the other associated equipment. We also carry a range of Freesat satellite receivers. Using all of this range of equipment we can deliver the very best and most reliable TV reception. Our aerial installations will deliver both standard definition & high definition signals to your TVs. We can install extra cables and sockets to deliver signals to additional TVs in other rooms so all your TVs can be connected up to get the same high quality signals and perfect TV pictures.
We also do lots of repairs and servicing to your existing TV and radio aerials and to your satellite dish installations.
Oxford Aerials can also now solve your Wi-Fi blackspots by installing extra wireless access points. We can also hard wire your computers with cat6 data cable to give a perfect connection to the internet.
We have completed hundreds of jobs over recent years wall mounting your flat screen TVs. We carry flat flush TV wall brackets and also swivel brackets to allow you to re-angle your TV around your room. As well as wall mounting TVs we also set up any TV and AV equipment for you if you wish us to.
Since it was launched back in 2016 we have carried out lots of upgrade work for Sky Q . Either Sky's installers can't get to the dish because it is too high or it is inaccessible for some other reason. We also offer a service fitting your dish in a very discreet position. Sky do not offer this service for you. We have upgraded many dishes and communal systems for the new Sky Q service. We are also happy to install dishes for foreign language satellite services. These usually receive from the Astra or Hotbird satellites and work with a Free to air satellite receiver.
Our installation work comes with a full 5-year guarantee on our workmanship and also a 1-year manufacturers guarantee on parts.
Our installers can carry out a full on site survey for you. Our office staff can provide you with written quotations for all types of installation work. We can also provide risk assessments for commercial work in blocks of flats, commercial buildings and hotels.
We carry out our work properly, professionally, on time and in budget.
Call the office on 01865 400141 to make an appointment or use the 'contact us' button below.